IQF Frozen Sliced Red Onions
IQF Frozen Sliced Red Onions, also known as Spanish Onions, are the mainstay of any kitchen, be it a family kitchen serving a family of four, or a community kitchen serving thousands of meals everyday! Our IQF Sliced Red Onions can be used directly from frozen, for sautéing, frying, in curries, vegetables, soups and salads. Our Frozen Sliced Red Onions can be used directly in any cuisine, be it American, Continental, Middle Eastern, Indian or Asian.
We can supply IQF Frozen Sliced Red Onions in bulk anywhere in the world, including Canada, USA, Europe, Dubai, Middle East, Japan, South Asia, and Australia.

India is the second-largest producer of Red Onions in the world, and our IQF Frozen Sliced Indian Red Onions are one of the best cooking onions in the world. Indian Red Onions are better in quality and have a better shelf life as compared to Red Onions from China and Pakistan. That is why professional chefs all over the world prefer to use Indian Red Onions in their kitchens.
Why choose our IQF Frozen Sliced Red Onions?
Our IQF processing plant is situated in the state of Maharashtra, which is the onion producing capital of India. The best quality Indian Red Onions are sourced directly from the farms at peak harvest time. The onions are then sorted, cleaned, peeled and sliced under strict international standard hygienic conditions, with minimum human itervention. The sliced Red Onions are then immediately quick frozen at our state-of-the-art facility using the latest IQF technology. IQF technology quick freezes the onions to -18 degrees Celsius, and locks in the natural flavor, texture, aroma, pungency and sweetness of the red onions.
Using frozen red onions saves you time and expensive labor spent on sorting, peeling and slicing. Above all, you get freedom from tears, and the comfort and economy of using as much as needed, and storing away the rest for future use!
Every batch of our IQF Frozen Sliced Red Onions has:
Natural aroma, perfect pungency and natural onion sweetness.
Natural Reddish, Red Onion Color
Natural Crispiness, and texture.
Each slice of Red Onion is separate in the pack, no lumps.
Our IQF Frozen Sliced Red Onions are available in the following packaging:
2.5 kg x 4 Bulk packaging
10 kg Bulk packaging
15 kg Bulk packaging
25 kg Bulk packaging
30 kg Bulk packaging

Health Benefits of Indian Red Onions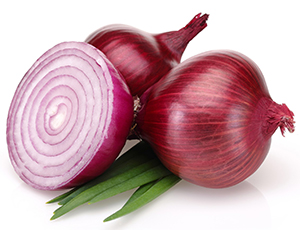 Red Onions are a great source of minerals like Folate, Calcium, Potassium, Magnesium and vitamins including Vitamin K, C and B6, according to the BBC Good Food Guide
Indian Red Onions are a great source of natural flavanoids, including Quercetin, which is a powerful anti-oxidant. Quercitin in Red Onions has anti-inflammatory, anti-fungal, and anti-bacterial properties, according to the National Onion Association, USA.
Quercetin in Indian Red Onions has been shown to reduce stomach cancer risk by 50%
Red Onions are very low in calories, with only 53 calories per serving of 50 grams.
Nutritional Value of IQF Sliced Red Onions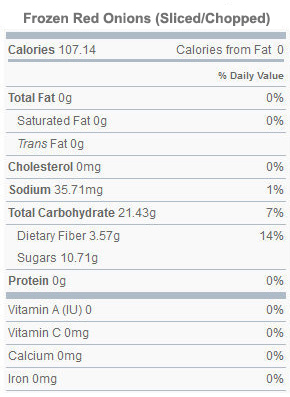 Use B.Y. Agro & Infra's IQF Frozen Sliced Red Onions in your daily cooking and enjoy the ease, taste, and health benefits of frozen red onions!