B.Y. Agro & Infra featured in The Hitavada newspaper
B.Y. Agro & Infra's annual social initiatives undertaken on the day of the Indian festival of Ram Navmi, on the 8th of April, 2014, have been featured on the Front page of the City Line supplement of the popular English daily, 'The Hitavada' dated April 15, 2014.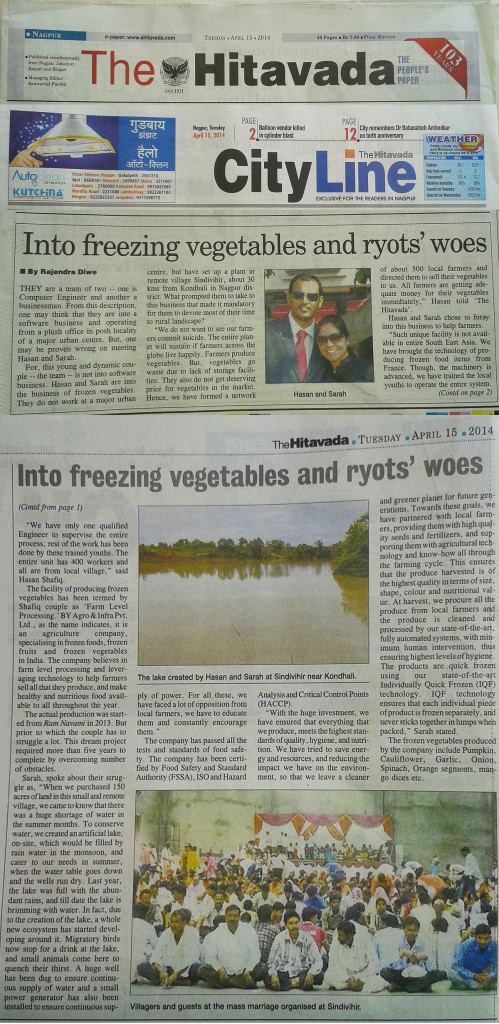 The immense work done by our founders, Mr. Hasan and Mrs. Sarah Shafiq, in bringing a high tech frozen foods facility to the area, and the way it has transformed the lives of over 400 families in nearby villages, has been praised by the media.
For the past 5 years, we have been giving back to the local community by sponsoring a mass marriage programme for willing bride and grooms of Sindivihiri, the local village, who cannot afford to pay for a private wedding. Our efforts have been appreciated by the media, and the newspaper article also carries a photo of the same.
Our ecological initiatives like the artificial lake that we have created, which has caused the water table of the whole area to rise, has been specially mentioned. Due to the presence of B.Y. Agro & Infra's frozen foods plant, the local farmers can now sell their entire produce at a good price to us, and benefit from our facility. We have been able to transform the lives of many local farmers because of our plant.
B.Y. Agro & Infra is certified by the FSSA, ISO, and HACCP. We use the latest Individually Quick Frozen (IQF) technology to freeze the farm produce at harvest. The produce is cleaned, processed, and frozen using the highest standards of hygiene. Our products like Frozen Onion Dices, Frozen Mango Dices, Frozen Spinach Leaves, Frozen Pumpkin, Frozen Cauliflower florets, etc are in huge demand and we are exporting in bulk to countries like UAE, Japan, Singapore, Kuwait, and Europe.
You can also read the article online at The Hitavada's website here and here.