Mango is the national fruit of India, and hundreds of varieties of Mango are grown in India.  We at B.Y Agro & Infra Ltd are the premier IQF Frozen Mango Dices and Slices suppliers in India. Being situated in Central India, we have access to the best mango orchards in the North, East, West and South of India. Be it Alphonso, Banganpalli, Dasheari, Langda, Neelam, Chausa or Kesar, we can supply any popular variety of IQF Frozen Mango as per your requirements. We carefully select the best ripe mangoes in season, and the mangoes are cleaned, processed, diced and frozen fresh using our state-of-the-art IQF technology.
We can supply IQF Frozen Mango Dices in bulk worldwide, including to Canada, USA, Japan, Netherlands, Germany, Europe, Middle East, Dubai, South Asia and Australia.

Although mangoes are a fleshy fruit and difficult to process, our state-of-the-art processing equipment ensures a clean even cut and even sized dices. Our IQF technology ensures that each dice of mango is separate in the pack, and never sticks together. You can enjoy the best quality mangoes all year round.
Our IQF frozen mango dices are:
Ripe, sweet and freshly frozen
Fleshy and juicy, taste just as good as fresh mango.
Even sized dices with no damage
Each dice is separate in pack, no stickiness or lumps.
Rich source of Vitamin A and Vitamin C.
Great for Smoothies, Toppings and Desserts.
You can use our frozen mango dices in a variety of recipes. Frozen Mango Dices can be used to make mango smoothies, mango milk shakes, mango ice cream, mango salsa, or as a dessert topping. The possibilities are endless.
IQF Frozen Mango Dices are available in dices of 6mm and 10mm and in the following packaging:
2.5 kg x 4 bulk packaging
10 kg bulk packaging
15 kg bulk packaging
25 kg bulk packaging
30 kg bulk packaging
Custom orders also accepted.


Health benefits of Mango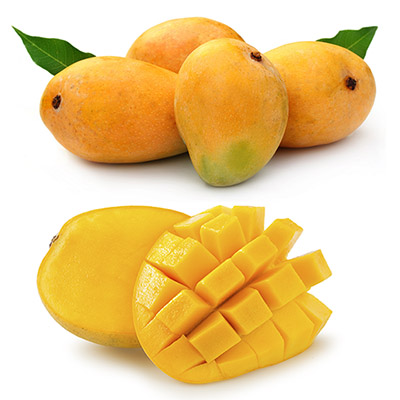 Mangoes are a rich source of Vitamin C. Vitamin C is a natural anti-oxidant and helps in strengthening your immune system.
Mangoes are also a rich source of Vitamin A which is also a powerful anti-oxidant. In fact, one serving of mango can provide you with 35% of your daily requirement of Vitamin A.
Vitamin A is also very good for your eyes and skin.
Mangoes are also rich in Vitamin B6, Folate and dietary fiber.
Nutritional values of IQF Frozen Mango Dices – Per 100 grams