Freshly Harvested and Quick Frozen
IQF Frozen Cauliflower Florets
Plump, crisp, white and full of flavor, our IQF Frozen Cauliflower Florets are processed and frozen fresh at harvest.

Actual Product Photo
Cauliflower are procured at the 'Farm Level' ,only the freshest, whitest and finest heads of cauliflower are chosen and processed into even sized florets with minimum human intervention. The cauliflower heads we choose are cleaned and are free of any insect larvae, compost or fertilizer. The fresh cauliflower florets are quick frozen using our state-of-the-art IQF technology. This ensures that the all the freshness, crispiness, flavor and nutrients of  the frozen cauliflower florets stays intact. Being the Farm Level Processing the quality which we get is highly insured.
Our IQF Cauliflower Florets are fully backed by all certifications, including BRC, HACCP, Halal, FSSAI and Kosher. We can also provide Organic IQF Cauliflower Florets.
IQF Frozen Cauliflower Florets can be used in soups, stir-fry vegetables, gratin, curries, Biryani, or just simple Indian style 'Gobhi ki sabzi'. No more cleaning or chopping; B.Y. Agro & Infra's IQF Frozen Cauliflower Florets can be used straight from the pack into your recipes.
We are already supplying in bulk to USA, Canada, Europe, UAE, Russia, Japan, South Korea and Australia.
IQF Frozen Cauliflower Florets are available in the following packaging:
4 x 2.5 kg in 5ply carton packaging
10 kg bulk packaging
25 kg bulk packaging
30 kg bulk packaging

Health Benefits of Cauliflower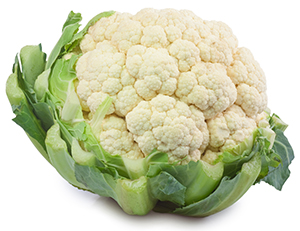 Cauliflower is well known for its cancer prevention properties, especially breast cancer, prostrate cancer, ovarian cancer and colon cancer.
Cauliflower has excellent anti-oxidant properties because of the high Vitamin C content. Cauliflower is rich in Vitamin K which is a well known anti-inflammatory.
Cauliflower is rich in dietary fiber and helps you clean your digestive system and clear out toxins from your digestive tract.
Whatever way you look at it, including cauliflower on your menu will make for tastier and healthier meals for you and your family.
Nutritional Values of IQF Frozen Cauliflower Florets – Per 100 grams