IQF Frozen Spinach Leaves
B.Y. Agro & Infra is a premier supplier of IQF Frozen Spinach Leaves from India. Fresh, green, clean and crisp, whole Spinach Leaves are cleaned, blanched and frozen at harvest.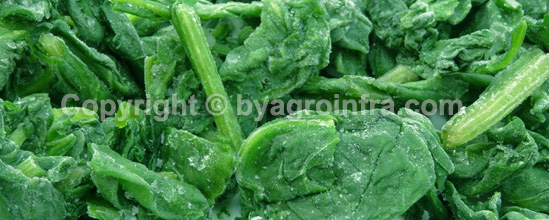 Only the freshest, crispiest and healthiest spinach is procured at harvest to bring you the best tasting and nutritious spinach leaves. The Spinach is then cleaned, the stalks are removed and only the whole spinach leaf is used. Our state-of-the-art processing lines ensure minimum human intervention and highest standards of hygiene.
The Spinach leaves are then quick blanched and frozen immediately using our latest IQF technology, which ensures the Spinach is frozen fresh, without any loss of vital nutrients and there is absolutely no bacterial growth.
Each batch of IQF Frozen Spinach Leaves has:
Fresh Green Color, no discoloration.
Whole Spinach leaves, mostly separate.
Rich in typical Spinach flavor
Rich in Iron, Vitamin A, Vitamin C and Folic Acid.
IQF Frozen Spinach Leaves can be used directly from the pack into your recipes. They can be stir fried, pureed or used in soups, salads or as pizza topping. Use just like fresh Spinach. B.Y. Agro & Infra's IQF Frozen Spinach Leaves are tastier, nutritious, and save you precious time lost in cleaning and cutting.
IQF Frozen Spinach Leaves are available in the following packaging:
15 kg bulk packaging
25 kg bulk packaging
30 kg bulk packaging
Any bulk order as per your requirement

Health benefits of Spinach
Spinach Leaves are full of antioxidants, especially when steamed or blanched.
Spinach Leaves are rich in Vitamin A, Vitamin C, and Vitamin K.
Spinach Leaves are very rich in Iron and Folic acid (vitamin B9), and are extremely good for building blood.
Spinach leaves are also very rich in Calcium which is good for healthy bones.